Pet Pairs sets include two pets as well as some additional equipments.
Available Pet Pairs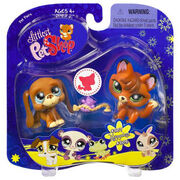 #807 Fox
and
#808 Basset Hound
are available as a Pet Pairs set, probably refering to "The Fox and the Hound", a novel by Daniel Mannix as well as its Disney film version.
This set includes a sticker and a rope toy.
646 polar bear
,
647 polar bear
are two polar bears. They have blue eyes, white and light blue fur. This set includes a gift box.