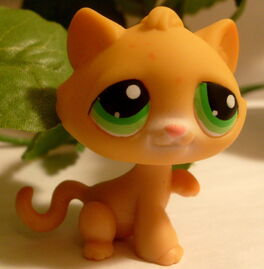 Littlest Pet Shop
is a toy franchise of collectible pets which a characterized by their over-sized wobble heads and big eyes.
In August 2007, Electronic Arts gained the rights to some Hasbro brands, like Monopoly, Littlest Pet Shop, and Nerf. In February, EA Casual Entertainment announced that their EA Salt Lake Studio would develop and release Littlest Pet Shop and Nerf N-Strike.Fall 2008, the Littlest Pet Shop was released for Wii, Microsoft Windows, and Nintendo DS. For Nintendo DS, the game was initially released in three versions: Jungle, Garden and Winter, each with different pets. A fourth DS version, Spring, was released in March 2009. The Wii version has all the pets from the DS versions (excluding Spring edition). The PC version is the same as the Wii. The DS versions contained 20 pets and featured over 150 accessories for them.Littlest Pet Shop Friends, a second edition of the game, was released in October 2009 for Wii and Nintendo DS. The Nintendo DS versions include: City Friends, Country Friends, and Beach Friends.
LPS figures
see: List of LPS figures
Trivia
Did you know the color of LPS pets eyes tell how rare it is? Blue means it is Common, Green means it is Uncommon, Brown means it's super uncommon, and Purple means it's rare also hard to find. There also even more colors then that! Inside the LPS eyes, there's a shape inside. Most LPS has the Circle shape in their eyes. They can have 1 or 2 shapes in their eyes.
Media Adaptations
Littlest Pet Shop (1995)
Littlest Pet Shop video game (2008)
Littlest Pet Shop animated shorts (The animated shorts, produced by Cosmic Toast Studios, was released online by Hasbro.)