The Happy Puppy and Puppy Carrier is a Littlest Pet Shop toy set that was sold at 1992.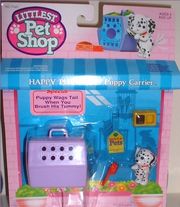 Pet Description
Standing-up Dalmatain puppy; red collar with a silver paw print.
Accessories
Lavender Pet Carrier with blue door
Food and water dish with dark brown food
Red brush
Newspaper for inside carrier
Travel bag
Action
"Puppy wags his tail when you brush his tummy!"
Sources