Cuddliest Cow #476 is white with brown and pink accents. Its eyes are an orange mahogony color, and its fur is adorned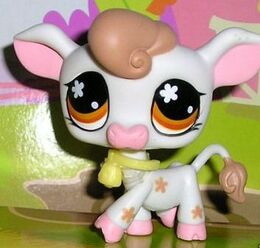 with light brown Cuddliest Pet icons.
It comes with a yellow bell collar (color varies) and is from the Littlest Pet Shop 3-Pack set Pet Lovin' Zoo, along with Cuddliest Pig #475 and Cuddliest Lamb #477.
Trivia: This was the first cow introduced in the Littlest Pet Shop toy line!
Later on a duplicate of #476 was created, Cow #1210.