'The Littlest Pet Shop' pet #339 is a golden short hair cat. 
This pet is highly rare compared to some other pets, this is mainly due to it's fame on YouTube. 
Description
#339 is a short hair cat, with a golden body, head and tail. The paws and tail-end have darker-golden markings that fade into the body color. The inside ears and nose are baby-pink, and the eyes are blue with smaller eyelashes.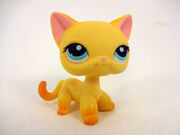 Trivia
#339 is found on YouTube in the LPS Popular series, she is played as 'Brooke Hayes' the man antagonist in the series.
On eBay, this pet has been sold for prices are high as $100.